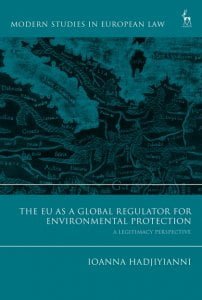 A Legitimacy Perspective
By: Ioanna Hadjiyianni
ISBN: 9781509925605
Publicado: 08-08-2019
Páginas: 368
This book critically examines the extension of EU environmental legislation beyond EU borders through measures that determine access to the single market on the basis of processes that take place in third countries. It makes a timely contribution to political debates about the relations between EU and non-EU countries, and the Union's role in the global governance of environmental policy, where it has been considered a global leader. The book aims to identify and explain the emerging legal phenomenon of internal environmental measures with extraterritorial implications as an important manifestation of EU global regulatory power, and assesses the extraterritorial reach of EU environmental law from a legitimacy perspective. It examines mechanisms that can bolster its legitimacy, focusing on the legal orders of the EU and the World Trade Organization, which are key legal fora for controlling the EU's global regulatory power.
CONTENIDO
Introduction: Scope and Frame of Inquiry
I. The Focus on the Environment
II. Analytical Approach and Outline of the Book
PART I
IEMEIS AS MANIFESTATIONS OF EU GLOBAL REGULATORY POWER
1. Identifying and Mapping the Legal Phenomenon of Internal environmental Measures with Extraterritorial Implications (IEMEIs)
I. Introduction
II. IEMEIs within the Broader Context of EU External Environmental Action
III. Examples of IEMEIs: Mapping their Legal Features
IV. Assessing IEMEIs as a Legal Phenomenon at the Intersection of Multiple Legal Regimes
2. The Legitimacy of Global Regulatory Power – The Case of IEMEIs
I. Introduction
II. The Legitimacy Gaps
III. Different Understandings of Legitimacy and IEMEIs
IV. Filling the Legitimacy Gaps: Reframing Legitimacy Models for IEMEIs
A. Evaluating IEMEI Legitimacy: Affected Third Country
V. Conclusion
PART II
IEMEIS IN THE EU LEGAL ORDER
Introduction: The Legitimising Function of EU Law for IEMEIs
I. Introduction
II. The Constitutional Basis for Conducting EU External Action as a Normative Basis for Legitimising IEMEIs
III. Conclusion
3. EU Decision-Making Processes and IEMEIs
I. Introduction
II. Right to be Heard
III. Public Participation in the Aarhus Convention
IV. EU Regulatory Processes: Better Regulation and the Case of Impact Assessments
V. Duty to Provide Reasons
VI. Access to Information
VII. Conclusion
4. Judicial Review of IEMEIs in the EU Legal System
I. Introduction
II. Access to Justice
III. Grounds of Judicial Review
IV. Conclusion
PART III
IEMEIS IN THE WTO LEGAL ORDER
Introduction: The Legitimising Function of WTO Law for IEMEIs
I. Introduction
II. WTO Law as a Relevant Legal Frame for Legitimising IEMEIs
III. Conclusion
5. WTO Influence and Legal Control of IEMEIs: Substantive Obligations
I. Introduction
II. IEMEIs and Non-Discrimination
III. IEMEIs and the Agreement on Technical Barriers to Trade
IV. Conclusion
6. Justifying IEMEIs under Exceptions in the WTO
I. Introduction
II. Pursuance of Legitimate Objectives Through IEMEIs under Exceptions
III. IEMEIs under the Chapeau
IV. Conclusion
7. The WTO as a Forum of Transparency and Consultation on IEMEIs
I. Introduction
II. Ex Post Notification Obligations as Transnational Avenues of Accountability and Due Process
III. Ex Ante Notification Obligations and Consultation Procedures in Specialised WTO Organs: The Case of the TBT Agreement and the TBT Committee
IV. Conclusion to Part III: IEMEIs under WTO Law
Conclusion: Combining Legal Orders to Legitimise Global Regulatory Power
Introduction: The Interface between EU and International Law
Inge Govaere and Sacha Garben

PART I
A HORIZONTAL, HOLISTIC APPROACH
1. Interconnecting Legal Systems and the Autonomous EU Legal Order: A Balloon Dynamic
Inge Govaere
2. The Axiological Emancipation of a (Non-)Principle: Autonomy, International Law and the EU Legal Order
Violeta Moreno-Lax
3. Studying International and European Law: Confronting Perspectives and Combining Interests
Ramses A Wessel

PART II
THE INTERACTION BETWEEN EU AND INTERNATIONAL LAW IN SELECTED AREAS
4. Integrated Rights Protection in the European and International Context: Some Reflections about Limits and Consequences
Christina Eckes
5. A Balloon Dynamic in the Area of Social Rights
Sacha Garben
6. The Interplay of International and EU Environmental Law
Nicola Notaro and Mario Pagano
7. Implementing International Norms through EU Procedure? The Case of Business and Human Rights
Pierre Thielbörger

PART III
THE EU AND 'THIRD' COUNTRIES
8. On the Cusp: Brexit and Public International Law
Kieran Bradley
9. EU Enlargement, Extra-Territorial Application of EU Law and the International Dimension
Christophe Hillion and Vincent Delhomme
10. Law and Practice of the EU's Trade Agreements with 'Disputed' Territories: A Consistent Approach?
Guillaume Van der Loo
11. We'll Always have Geneva: The Existential Crisis of the US-led Multilateral Trading System and the EU Reactions
Michael Hahn

PART IV
A VIEW FROM PRACTICE: COMMENTS ON CURRENT DEVELOPMENTS IN THE INTERFACE BETWEEN
EU AND INTERNATIONAL LAW
12. The Interaction between Public International Law and EU Law: The Role Played by the Court of Justice
Ricardo da Silva Passos
13. The Rosneft Case as a Good Example of Smooth Interaction between EU Law and International Law in the Most Recent Post-Lisbon Jurisprudence of the Court of Justice
Jenö Czuczai
14. An Incoherent Approach Towards Aarhus and CETA: The Commission and External Oversight Mechanisms
Laurens Ankersmit
AUTOR
Ioanna Hadjiyianni is a Lecturer in Law at the University of Cyprus. Previously, she was a Max Weber Postdoctoral Fellow at the Euroepean University Institute. She has obtained her PhD from King's College London. She is researching EU environmental law, including climate change, with a focus on the global reach of EU legislation and its effects on third countries.