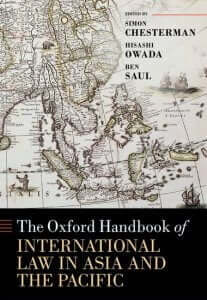 Edited by Simon Chesterman, Hisashi Owada, and Ben Saul
ISBN: 9780198793854 (Hardcover)
Publicado: 04 November 2019
Páginas: 912
The growing economic and political significance of Asia has exposed a tension in the modern international order. Despite expanding power and influence, Asian states have played a minimal role in creating the norms and institutions of international law; today they are the least likely to be parties to international agreements or to be represented in international organizations.

That is changing. There is widespread scholarly and practitioner interest in international law at present in the Asia-Pacific region, as well as developments in the practice of states. The change has been driven by threats as well as opportunities. Transnational issues such as climate change and occasional flashpoints like the the territorial disputes of the South China and the East China Seas pose challenges while economic integration and the proliferation of specialized branches of law and dispute settlement mechanisms have also encouraged greater domestic implementation of international norms across Asia. These evolutions join the long-standing interest in parts of Asia (notably South Asia) in post-colonial theory and the history of international law.

The Oxford Handbook of International Law in Asia and the Pacific brings together pre-eminent and emerging specialists to analyse the approach to and influence of key states of the region, as well as whether truly 'Asian' trends can be identified and what this might mean for international order.
CONTENIDO
1. Introduction
2. Asia's Ambivalence on International Law, Simon Chesterman
3. Regional Organizations, Tan Hsien-Li
4. History and Theory of International Law, Tony Anghie
5. Regional Peace and Security, WPS Sidhu
6. Human Rights, Hurst Hannum
7. International Humanitarian Law and International Criminal Law, Suzannah Linton
8. International Environmental Law, Ben Boer
9. Law of the Sea, Robert C. Beckman
10. International Economic Law, Wang Jiangyu
11. Dispute Settlement, Hisashi Owada
12. China, Li Zhaojie
13. Japan, Toshiki Mogami
14. South Korea, Seokwoo Lee and Hee Eun Lee
15. Thailand, Vitit Muntabhorn
16. Indonesia, Hikmahanto Juwana
17. The Philippines, Romel Bagares
18. Singapore, Li-ann Thio and Kevin YL Tan
19. Malaysia, Abdul Ghafur Hamid @ Khin Maung Sein
20. Vietnam, Trinh Hai Yen
21. Cambodia, Mahdev Mohan
22. Myanmar, Catherine Renshaw
23. India, BS Chimni
24. Pakistan, Ahmer Bilal Soofi
25. Bangladesh, Kamal Hossain and Sharif Bhuiyan
26. Nepal, Pratyush Nath Upreti and Surya Subedi
27. Sri Lanka, Rohan Perera
28. Central Asian States, Marina Girshovich
29. Afghanistan, Veronica Taylor
30. Australia, Ben Saul
31. New Zealand, Kenneth Keith
32. Pacific Island States, Jennifer Corrin
AUTORES
Simon Chesterman, Dean and Professor, National University of Singapore Faculty of Law,Hisashi Owada, Judge and former President, The International Court of Justice,Ben Saul, Challis Chair of International Law, University of Sydney

Simon Chesterman is Dean and Professor at the National University of Singapore Faculty of Law and Editor of the Asian Journal of International Law.


Hisashi Owada is a Judge and former President of the International Court of Justice. Prior to joining the Court he served as a Japanese diplomat and law professor.


Ben Saul is Challis Chair of International Law at the University of Sydney, a barrister, and an Associate Fellow of Chatham House (the Royal Institute of International Affairs).
Contributors:
Tony Anghie, National University of Singapore
Romel Bagares, Centre for International Law, the Philippines
Robert C. Beckman, National University of Singapore
Sharif Bhuiyan, Kamal Hossain and Associates
Ben Boer, Wuhan University and University of Sydney
Simon Chesterman, National University of Singapore
BS Chimni, Jawaharlal Nehru University
Jennifer Corrin, University of Queensland
Marina Girshovich, Kazakhstan
Abdul Ghafur Hamid @ Khin Maung Sein, International Islamic University Malaysia
Hurst Hannum, Fletcher School of Law and Diplomacy
Kamal Hossain, Kamal Hossain and Associates
Tan Hsien-Li, National University of Singapore
Wang Jiangyu, National University of Singapore
Hikmahanto Juwana, Universitas Indonesia
Kenneth Keith, former Judge of the International Court of Justice
Hee Eun Lee, Handong International Law School
Seokwoo Lee, Inha University
Suzannah Linton, Zhejiang Gongshang University
Toshiki Mogami, Waseda University
Mahdev Mohan, Singapore Management University
Vitit Muntabhorn, Chulalongkorn University
Hisashi Owada, former Judge of the International Court of Justice
Rohan Perera, Permanent Mission of Sri Lanka to the United Nations
Catherine Renshaw, Australian Catholic University
Ben Saul, University of Sydney
WPS Sidhu, Brookings Institution
Ahmer Bilal Soofi, Research Society of International Law, Pakistan
Surya Subedi, University of Leeds
Kevin YL Tan, National University of Singapore
Veronica Taylor, Australian National University
Li-ann Thio , National University of Singapore
Pratyush Nath Upreti, Sciences Po Law School,
Trinh Hai Yen, Diplomatic Academy of Vietnam
Li Zhaojie, Tsinghua University