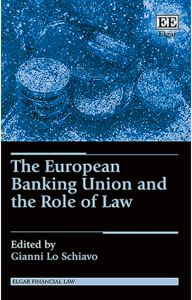 Elgar Financial Law series
Edited by Gianni Lo Schiavo, Lawyer, European Central Bank, Frankfurt, Germany
ISBN: 9781788972017
Publicado: 2019
Páginas: 320
eISBN: 9781788972024
Publicado: 2019
Páginas: 320
The European Banking Union and the Role of Law offers a comprehensive and unique examination of the European Banking Union's (EBU) impact on existing legal disciplines and assesses the role of law in shaping the EBU framework.
With expert contributions from academics, practitioners and EU officials, this thought-provoking book provides different perspectives on the Single Supervisory Mechanism (SSM) and the Single Resolution Mechanism (SRM). Evaluating and proposing original interpretations on the EBU at a key stage of its development in the European Union, this book assesses topical issues relating to the institutional and administrative rules of the EBU, the interpretation and application of banking law, supervision and resolution frameworks, judicial rules and protection in the EBU. The book is structured into three parts: a general overview of the EBU framework and specific reflections on both the SSM and the SRM. The contributions show that the EBU is a successful European integration project, yet challenges still lie ahead.
This topical and engaging book will be an important resource for practitioners, and public servants in the financial sector. Academics and students of financial law and European law will also find this book a valuable read.
CONTENIDO
Introduction
Part I The European Banking Union – general framework
1. The relationship between the Banking Union and the Economic and Monetary Union: A re-telling of Cinderella with an uncertain happy ever after?
Gavin Barrett
2. Banking Union in EU law: an EU institutional law perspective
Alberto de Gregorio Merino
3. The European Banking Union and EU Administrative Law
Mario P. Chiti
4. Accountability and Democratic Oversight in the European Banking Union
Diane Fromage and Renato Ibrido
5. Banking Union and Brexit: the challenge of geography
Pierre Schammo
Part II The Single Supervisory Mechanism
6. The SSM and the ECB decision-making governance
Christy Ann Petit
7. Reflections on euro area banking supervision: context, transparency and culture from an institutional law perspective
René Smits
8. The ECB's Macroprudential Tasks and Home-Host Supervision in the SSM: tasks, powers and supervisory gaps
Kern Alexander
9. The ECB and its application of national law in the SSM
Gianni Lo Schiavo
10. The SSM and the prudential regime of non-performing loans
Andrea Miglionico
Part III The Single Resolution Mechanism
11. The Single Resolution Mechanism and the EU crisis management tools
Simon Gleeson
12. BRRD/SRM, Corporate Insolvency Law and EU State Aid Law – The Trifurcated EU Framework for Dealing with Banks in Distress
Michael Schillig
13. Resolution framework and the protection of fundamental rights
Paolo Fucile
14. Single Resolution Fund and Emergency Liquidity Assistance: Status quo and reform perspectives on emergency financial support in the banking union
Napoleon Xanthoulis
Index
Contributors:
K. Alexander, G. Barrett, M.P. Chiti, A. de Gregorio Merino, D. Fromage, P. Fucile, S. Gleeson, R. Ibrido, G. Lo Schiavo, A. Miglionico, C.A. Petit, P. Schammo, M. Schillig, R. Smits, N. Xanthoulis