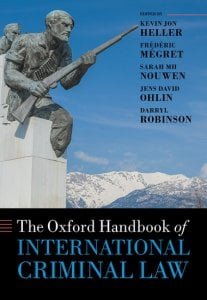 Oxford Handbooks
Edited by Kevin Heller, Frederic Megret, Sarah Nouwen, Jens Ohlin, and Darryl Robinson
ISBN: 9780198825203 (Hardcover)
Publicado: 24 March 2020
Páginas: 912
In the past twenty years the field of international criminal law has become one of the main subfields of international legal scholarship and practice with many texts in the field focusing on core crimes and judicial procedure. Eschewing this traditional approach however, the Oxford Handbook of International Criminal Law instead looks at who the actors are, how international criminal law goes about achieving its ends, where (geographically) it applies, when it applies, and why the system came into being and continues to grow.

By taking a step back and critically examining prevailing practices, orthodoxies, and received wisdoms, the authors deploy alternative modes of analysis and bring conceptual, theoretical, and interdisciplinary tools to bear on old and new problems alike. Contributions from key figures in disciplines outside of international criminal law such as anthropology, geography, history, philosophy, international relations, and rhetoric come together with legal experts to illuminate the rich tapestry that is international criminal law.
CONTENIDO
Introduction, Kevin Heller, Frédéric Mégret, Sarah Nouwen, Jens Ohlin and Darryl Robinson
SECTION I: ACTORS
1: An Empirical Analysis of International Criminal Law: The Perception and Experience of the Accused, Marie-Sophie Devresse & Damien Scalia
2: Defense Perspectives on Fairness and Efficiency at the International Criminal Court, Jenia Iontcheva Turner
3: Neither Here nor There: The Position of the Defence in International Criminal Tribunals, Dov Jacobs
4: The Creation of an Ad Hoc Elite: And the Value of International Criminal Law Expertise on a Global Market, Mikkel Jarle Christensen
5: Teachings of Publicists and the Reinvention of the Sources Doctrine in International Criminal Law, Neha Jain
SECTION II: SPACES
6: Legitimacy in War and Punishment: The Security Council and the ICC, Tom Dannenbaum
7: Africa and International Criminal Law, Christopher Gevers
8: On Regional Criminal Courts as Representatives of Political Communities: The Special Case of the African Criminal Court, Harmen van der Wilt
SECTION III: RATIONALES
9: Taking Internationalism Seriously: Why International Criminal Law Matters, Miriam Gur-Arye & Alon Harel
10: Impunities, Mark A. Drumbl
11: Courting Failure: When Are International Criminal Courts Likely to be Believed by Local Audiences?, Marko Milanovic
SECTION IV: CRIMES
12: 'What is An International Crime?', Alexander K.A. Greenawalt
13: A Theory of International Crimes: Conceptual and Normative Issues, Alejandro Chehtman
14: From Aggression to Atrocity: Rethinking the History of International Criminal Law, Samuel Moyn
15: Enslavement as a Crime against Humanity: Some Doctrinal, Historical, and Theoretical Considerations, Edwin Bikundo
SECTION V: MODALITIES
16: A Criminological Approach to the ICC's Control Theory, Alette Smeulers
17: The Two Cultures of International Criminal Law, Jean d'Aspremont
18: Immunity and Impunity, Adil Ahmad Haque
19: Epistemological Controversies and Evaluation of Evidence in International Criminal Trials, Mark Klamberg
20: The Right to Truth in International Criminal Law, Leora Bilsky
21: From Machinery to Motivation: The Lost Legacy of Criminal Organizations Liability, Saira Mohamed
SECTION VI: NARRATIVES
22: Historical Reasoning and Judicial Historiography in International Criminal Trials, Kim Christian Priemel
23: Criminal/Enemy, Lawrence Douglas
24: The Enemy of All Humanity, David Luban
25: Moving Images: Modes of Representation and Images of Victimhood in Audio-Visual Productions, Sofia Stolk & Wouter Werner
SECTION VII: ANXIETIES
26: International Criminal Tribunal Backlash, Henry Lovat
27: The Crises and Critiques of International Criminal Justice, Sergey Vasiliev
28: Hangman's Perspective: Three Genres of Critique following Eichmann, Itamar Mann
29: Inequality of Arms Reversed? Defendants in the Battle for Political Legitimacy, Marlies Glasius & Tim Meijers
SECTION VIII: BOUNDARIES
30: International Criminal Law and the Subordination of Emancipation: The Question of Legal Hierarchy in Transitional Justice, Laurel E. Fletcher
31: International Criminal Justice and Humanitarianism, Sara Kendall and Sarah M.H. Nouwen
32: International Criminal Law and Culture, Cheah W.L.
33: The Core Crimes of International Criminal Law, Christine Schwöbel-Patel
34: Transnational Crimes, Douglas Guilfoyle
35: The Unity of International Criminal Law: A Socio-Legal View, Frédéric Mégret
SECTION IX: FUTURE(S)
36: International Criminal Law: The Next Hundred Years, Gerry Simpson
AUTORES
Kevin Jon Heller is Professor of Criminal Law at SOAS, University of London. He holds a PhD in law from Leiden University, a JD with distinction from Stanford Law School, an MA with honours in literature from Duke University, and an MA and BA in sociology, both with honours, from the New School for Social Research. His research interests focus on substantive international criminal law and international humanitarian law, with a particular emphasis on the methodologies employed by those fields. His books include The Nuremberg Military Tribunals and the Origins of International Criminal Law (OUP, 2011), The Hidden Histories of War Crimes Trials (OUP, 2013) (edited with Gerry Simpson), and The Handbook of Comparative Criminal Law (2011) (edited with Markus Dubber).

Frederic Megret is an Associate Professor at the Faculty of Law, McGill University and the holder of the Canada Research Chair in the Law of Human Rights and Legal Pluralism. He holds an LLB from King's College London, a DEA from the Universite de Paris I, and a PhD from the Graduate Institute of International Studies (Geneva), as well as a diploma from Sciences Po Paris where he graduated "avec les felicitations du jury". He worked for the International Committee of the Red Cross, was a member of the French delegation at the Rome Conference on the International Criminal Court, and advised the Liberian government on a procedure to vet its armed forces for human rights violations. He is the author of Le tribunal penal international pour le Rwanda and is co-editor with Philip Alston of the forthcoming second edition of The United Nations and Human Rights (OUP).

Sarah Nouwen is a University Lecturer in Law at the University of Cambridge and Fellow of the Lauterpacht Centre for International Law and of Pembroke College. Her research interests lie at the intersections of law and politics, war and peace, and justice and the rule of law. She is the author of Complementarity in the Line of Fire: The Catalysing Effect of the International Criminal Court in Uganda and Sudan (CUP, 2013), an empirical study into the effects of the complementarity principle in the Rome Statute on the legal systems in Uganda and Sudan. She has advised the Netherlands Ministry of Foreign Affairs, the Department for International Development, and several NGOs. She also assisted an ICC judge as a Visiting Professional. In 2010-2011 she was seconded as Senior Legal Advisor to the African Union High-Level Implementation Panel on Sudan, working on questions of state succession in light of South Sudan's secession and designing a peace process for Darfur.

Jens Ohlin is Professor of Law at Cornell Law School. He specializes in international law and all aspects of criminal law, including domestic, comparative, and international criminal law. Ohlin's research also focuses on the laws of war, in particular the impact of new technology on the regulation of warfare, including remotely piloted drones and the strategy of targeted killings, cyber-warfare, and the role of non-state actors in armed conflicts. His books in this area include Targeted Killings: Law and Morality in an Asymmetrical World (OUP 2012, with A. Altman & C. Finkelstein), Cyber-War: Law & Ethics for Virtual Conflicts (OUP forthcoming, with C. Finkelstein & K. Govern), and Defending Humanity: When Force is Justified and Why (OUP 2008, with George Fletcher).

Darryl Robinson is Associate Professor at Queen's University Faculty of Law (Canada). He was a Hauser Scholar at New York University School of Law (LL.M International Legal Studies), a Gold Medalist at the UWO Faculty of Law, and a clerk at the Supreme Court of Canada. He served as a Legal Officer at Foreign Affairs Canada from 1997-2004. His work in the creation of the International Criminal Court and in the development of Canada's new war crimes legislation earned him a Minister's Citation and a Minister's Award for Foreign Policy Excellence. He is a co-author of Robert Cryer et al, Introduction to International Criminal Law and Procedure (OUP, 2014, 3rd edition), and is the 2013-14 recipient of the Antonio Cassese Prize for International Criminal Legal Studies.