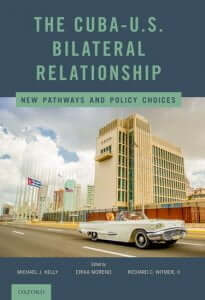 Taking Chinese Exceptionalism Seriously
Congyan Cai
ISBN: 9780190687366 (Hardcover)
Publicado: 25 October 2019
Páginas: 392
At the end of President Barack Obama's second term, it seemed that the U.S. and Cuba might be on track to normalize relations after five decades of cold war animus. These hopes appeared dashed, however, by the results of the 2016 U.S. presidential election, which brought to power a candidate that campaigned on undoing Obama's signature policies, including the rapprochement with Cuba. Several years into the Trump administration there are still several pathways that these two neighboring countries could take to either continue the rapprochement, extend the status quo, or drift further apart. Although it is not entirely clear which direction the bilateral relationship will take, given the varied and divergent political pressures that drive each of the two nations, it is clear that several key opportunities and challenges await them.
Drawing insight from the political, economic, and legal spheres, this book examines possible pathways for the two cold war adversaries. Key among the issues that demand attention are unresolved property claims dating back to the 1959 revolution, establishing regularized bilateral economic relationships in multiple sectors of the economy, as well as addressing a variety of legal and political constraints in both Cuba and the United States. This volume tackles these issues by drawing on the expertise of scholars in three distinct fields–political science, economics, and law–while positing viable policy choices and the opportunities and challenges found therein.
CONTENIDO
Acknowledgements
Preface: Michael Kelly, Erika Moreno, and Richard C. Witmer, II
Foreword: Former Ambassador, Jeffrey F. DeLaurentis
Contributor List
List of Tables
List of Figures
Chapter 1: Introduction Michael Kelly, Erika Moreno, and Richard C. Witmer, II
Part I. The Political Dimension
Chapter 2: Opening Cuba: Negotiating History William LeoGrande
Chapter 3: Succession versus Transition Michael Kelly, Erika Moreno, and Richard C. Witmer, II
Chapter 4: The China Connection Gregg B. Johnson and Zhimin Lin
Part 2: The Economic Dimension
Chapter 5: The Future of Cuba's Non-Sugar Agricultural Sector Mario Gonzalez-Corso and Armando Nova-Gonzalez
Chapter 6: Between the ": El Proyecto Artecorte and the Virtuous Circle of Entrepreneurial Solidarity in One Old Havana Neighborhood Ted A. Henken
Chapter 7: Success Characteristics of Market Entry in Cuban Tourism Janet Walsh
Chapter 8: A Political Economy Approach to U.S. Normalization Policy Towards Cuba: Obama and Trump Roger R. Betancourt
Part 3: The Legal Dimension
Chapter 9: The Ghost of Helms-Burton: Necessary Course Corrections on the Path to Normalized US-Cuban Relations Jonathan Benjamin-Alvarado
Chapter 10: Unresolved Property Claims Michael Kelly, Erika Moreno, and Richard C. Witmer, II
Chapter 11: Reintegrating Cuba into the Global Economy: Stasis and the European Alternative Larry Catá Backer
Chapter 12: Big Chills: How U.S. Choices will Affect Cuba's Environmental Future Robert R.M. Verchick and Karen C. Sokol
Chapter 13: Conclusion Michael Kelly, Erika Moreno, and Richard C. Witmer, II
Afterword Gary Maybarduk
References
Index
AUTORES
Michael J. Kelly is Interim Dean and Professor of Law at Creighton University

Erika Moreno is Associate Professor of Political Science at Creighton University.

Richard C. Witmer is Professor of Political Science at Creighton University.
Contributors:
Larry Catá Backer, W. Richard and Mary Eshelman Faculty Scholar & Professor of Law, Professor of International Affairs, Pennsylvania State University

Jonathan C. Benjamin-Alvarado, Professor of Political Science and Assistant Vice Chancellor for Student Affairs, University of Nebraska – Omaha

Roger Betancourt, Emeritus, University of Maryland

Jeffrey DeLaurentis, Centennial Fellow, Georgetown University Walsh School of Foreign Service.

Mario A. Gonzalez-Corzo, Associate Professor of Business and Economics, Lehman College, The City University of New York

Ted Henken, Associate Professor of Latino Studies, Baruch College, The City University of New York

Gregg B. Johnson, Associate Professor of Political Science and International Relations, Valparaiso University

Michael J. Kelly, Interim Associate Dean and Professor of Law, Creighton University

William LeoGrande, Professor of Government, American University School of Public Affairs

Gary H. Maybarduk, Acting Secretary of ASCE.

Zhimin Lin, Associate Professor of Government and Public Administration, University of Macau

Erika Moreno, Associate Professor of Political Science, Creighton University

Armando Nova Gonzalez, Senior Researcher and Professor at the Center for the Study of the Cuban Economy, University of Havana

Karen C. Sokol, Associate Professor of Law, Loyola University New Orleans

Robert R.M. Verchick, Gauthier- St. Martin Chair of Environmental Law , Loyola University New Orleans

Janet Walsh, Birchtree Global, LLC.

Richard C. Witmer, Professor of Political Science, Creighton University