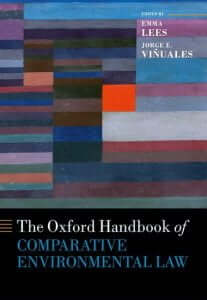 Edited by Jorge Vinuales and Emma Lees
ISBN: 9780198790952 (Hardcover)
Publicado: 25 June 2019
Páginas: 1328
The study of environmental law has been relatively limited to date, with researchers either adopting a country-by-country approach, confining comparative analysis within the bounds of a basic common chapter structure, or addressing a specific area or problem in detail without seeking to encompass environmental law as a whole. The Oxford Handbook of Comparative Environmental Law fills a gap in the market by being the first comprehensive book to address comparative environmental law from an integrated perspective.

In addition to the common approaches to the subject, this Handbook also addresses the fundamental systems underpinning the diversity observed across countries as well as the interactions of environmental laws and instruments with their broader legal context. The latter has received limited attention to date, while the former is important not only because such interactions may heavily influence the effectiveness and resilience of environmental law but also because some non-environmental instruments, such as anti-poverty policies, may operate as extremely powerful vehicles of environmental protection.

Combining commentaries by leading academics as well as observations by a new generation of scholars who have different perspectives on the questions being addressed, this Handbook is a valuable resource for both academics and practitioners in the field.
CONTENIDO
Framing comparative environmental law
1. Comparative environmental law: Structuring a field, Jorge E. Viñuales
2. Value in comparative law – 3D Cartography and analytical description, Emma Lees
Part I: Country studies
3. Australia, Douglas Fisher
4. Brazil, Antonio Benjamin & Nicholas Bryner
5. Canada, Stepan Wood
6. People's Republic of China, Wang Xi
7. The European Union, Markus Gehring, Freedom-Kai Phillips, Emma Lees
8. France, Laurent Neyret
9. Germany, Olaf Dilling & Wolfgang Kö¶ck
10. India, Bharat Desai & Balraj K. Sidhu
11. Indonesia, Simon Butt & Prayekti Murharjanti
12. Japan, Julius Weitzdörfer & Lucy Lu Reimers
13. Mexico, Marisol Anglés Hernández & Monserrat Rovalo
14. Singapore, Lye Lin-Heng
15. South Africa, Jan Glazewski
16. South Korea, Hong Sik Cho & Gina J. Choi
17. United Kingdom, Stuart Bell
18. United States of America, James Salzman
Part II: Problems
19. Atmospheric pollution, Massimiliano Montini
20. Environmental regulation of freshwater, Dan Tarlock
21. Land degradation, Ben Boer & Ian Hannam
22. Nature conservation, Agustin Garcia Ureta
23. Regulation of marine-capture fisheries, Till Markus
24. Genetically modified organisms, Anne Saab
25. Climate change and energy transition policies, Justin Gundlach & Michael Gerrard
26. Regulation of chemicals, Lucas Bergkamp & Adam Abelkop
27. Waste regulation, Natalie Jones & Geert van Calster
28. Contaminated sites, Emma Lees
Part III: Systems
A. Infrastructure
29. Environmental principles across jurisdictions:egal connectors and catalysts, Eloise Scotford
n 30 Distribution of powers, Moritz Reese
n 31 Property systems and environmental regulation, Christopher P. Rodgers
32. Regulatory organisation, Brian Preston
33. Sciences, environmental laws, and legal cultures: Fostering collective epistemic responsibilities, Elizabeth Fisher
34. Transnational networks, Veerle Heyvaert
35. Adjudication systems, Emma Lees
B. Policy instruments
Command and control regulation
36. Environmental planning, Wang Jin
37. Protection of sites, Colin Reid
38. Command and control standards and cross-jurisdictional harmonization, Bettina Lange
39. The assessment of environmental impact, Neil Craik
Market mechanisms
40. Environmental taxation, Janet Milne
41. Trading schemes, Sanja Bogojevic
Informational techniques
42. A cartography of environmental education, Amy Cutter-McKenzie, Marianne Logan, Ferdousi Khatun, Karen Malone
43. Informational requirements and environmental protection, Karen Morrow
44. Eco-labelling, Jason Czarnezki, Margot Pollans, Sarah Main
Ex post injury-based mechanisms
45. Environmental liability, Monika Hinteregger
46. A cartography of environmental human rights, Louis Kotze & Erin Daly
Part IV: Legal context
47. Environmental law and constitutional and public law, Ole Pedersen
48. Environmental law and private law, David Howarth
49. Environmental law and criminal law, Emma Lees
50. Environmental law in private international law, Geert van Calster
51. Environmental law and public international law, Leslie-Anne Duvic Paoli
AUTORES
Jorge Vinuales, Harold Samuel Professor Law and Environmental Policy and Director, University of Cambridge and the Centre for Environment, Energy, and Natural Resource Governance,Emma Lees, University Lecturer in Environmental Law and Deputy Director, University of Cambridge and the Centre for Environment, Energy, and Natural Resource Governance

Jorge E. Vinuales is the Harold Samuel Professor of Law and Environmental Policy at the University of Cambridge and the Director of the Centre for Environment, Energy and Natural Resource Governance (C-EENRG). He has published widely in his specialty areas, with his most recent books including International Environmental Law (Cambridge University Press, 2015) (with P.-M. Dupuy), The Rio Declaration on Environment and Development: A Commentary (Oxford University Press, 2015), and The Foundations of International Investment Law (Oxford University Press, 2014) (co-edited with J. Pauwelyn and Z. Douglas).

Emma Lees is a University Lecturer in Environmental Law at the University of Cambridge in the Department of Land Economy and the Deputy director of the Cambridge Centre for Environment, Energy and Natural Resource Governance (C-EENRG). Her areas of research inclulde national law controls on the use of land (contaminated land, waste, and habitats>' protection), the role of the judiciary in environmental law, and comparative and European Union environmental law.
Contributors:
Adam Abelkop, Stanford Law School
Marisol Anglés Hernández, National Autonomous University of Mexico (Universidad Autónoma de México, UNAM)
Stuart Bell, University of York
Antonio Herman Benjamin, Justice of the National High Court of Brazil (STJ) and Justice of the Superior Electoral Tribunal of Brazil (TSE)
Lucas Bergkamp, Hunton Williams Kurth LLP
Ben Boer, Wuhan University and University of Sydney
Sanja Bogojevic, Lady Margaret Hall, University of Oxford
Nicholas Bryner, Louisiana State University
Simon Butt, University of Sydney
Hong Sik Cho, Seoul National University
Gina J Choi, NYU
Neil Craik, University of Waterloo
Amy Cutter-Mackenzie, Southern Cross University
Jason Czarnezki, Pace University
Erin Daly, Delaware Law School
Bharat H Desai, Jawaharlal Nehru University
Olaf Dilling, UFZ, Leipzig
Leslie-Anne Duvic-Paoli, King's College London
Douglas Fisher, Queensland University of Technology
Elizabeth Fisher, Corpus Christi College, University of Oxford
Agustín García-Ureta, University of the Basque Country
Markus Gehring, Hughes Hall, University of Cambridge
Michael B Gerrard, Columbia Law School
Jan Glazewski, University of Cape Town
Justin Gundlach, New York State Energy Research and Development Authority
Ian Hannam, University of New England
Veerle Heyvaert, London School of Economics
Monika Hinteregger, Karl Franzens University Graz
David Howarth, Clare College, University of Cambridge
Natalie Jones, University of Cambridge
Ferdousi Khatun, Southern Cross University
Wolfgang Köck, University of Leipzig
Louis J. Kotzé, North-West University
Bettina Lange, University of Oxford
Marianne Logan, Southern Cross University
Lye Lin-Heng, Supreme Court of Singapore and National University of Singapore
Sarah M Main, New York State Energy Research and Development Authority
Karen Malone, Western Sydney University
Till Markus, University of Bremen
Janet Milne, Vermont Law School
Massimiliano Montini, University of Siena and Clare Hall, University of Cambridge
Karen Morrow, Swansea University
Prayekti Murharjanti, University of Sydney Law School
Laurent Neyret, Versailles Paris-Saclay University
Ole W Pedersen, Newcastle Law School
Freedom-Kai Phillips, Centre for International Governance Innovation (CIGI) and the Centre for International Sustainable Development Law (CISDL)
Margot Pollans, Pace University
Brian Preston, Chief Judge of the Land and Environment Court of New South Wales
Moritz Reese, UFZ, Leipzig
Colin T Reid, University of Dundee
Lucy Lu Reimers, Graduate Institute of International and Development Studies
Christopher P. Rodgers, Newcastle University
Montserrat Rovalo Otero, National Autonomous University of Mexico (Universidad Autónoma de México, UNAM)
Anne Saab, Graduate Institute of International and Development Studies
James Salzman, UCLA and UC, Santa Barbara
Eloise Scotford, University College London
Balraj K Sidhu, Indian Institute of Technology Kharagpur
Dan Tarlock, Chicago-Kent College of Law
Geert Van Calster, University of Leuven
Wang Jin, Peking University Law School (PKULS)
Wang Xi, Shanghai Jiao Tong University
Julius Weitzdörfer, Darwin College, University of Cambridge
Stepan Wood, University of British Columbia