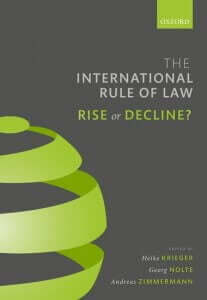 Rise or Decline?
Edited by Heike Krieger, Georg Nolte, and Andreas Zimmermann
ISBN: 9780198843603 (Hardcover)
Publicado: 01 October 2019
Páginas: 400
This edited volume examines the role of international law in a changing global order. Can we, under the current significantly changing conditions, still observe an increasing juridification of international relations based on a universal understanding of values? Or are we, to the contrary, facing a tendency towards an informalization or a reformalization of international law, or even an erosion of international legal norms? Would it be appropriate to revisit classical elements of international law in order to react to structural changes, which may give rise to a more polycentric or non-polar world order? Or are we simply observing a slump in the development towards an international rule of law based on a universal understanding of values?
In eleven chapters, distinguished scholars reflect on how to approach these questions from historical, system-oriented and actor-centered perspectives. The contributions engage with the rise of European international law since the 17th century, the decay of the international rule of law, compliance as an indicator for the state of international law, international law and informal law-making in times of populism, the rule of environmental law and complex problems, human rights in Europe in a hostile environment, the influence of the BRICS states on international law, the impact of non-state actors on international law, international law's contribution to global justice, the contestation of value-based norms and the international rule of law in light of legitimacy claims.
CONTENIDO
1. The International Rule of Law – Rise or Decline? Approaching current foundational challenges, Heike Krieger and Georg Nolte
Part I: Historical Perspectives
2. The Decay of the International Rule of Law Project (1990-2015), Jochen von Bernstorff
3. The Rise and Decline of the International Rule of Law and the Job of Scholars, Anne Peters
4. Coercion, Internationalization, Decolonization – A Contextual Reading of the Rise of European International Law Since the 17th Century, Felix Lange
5. International Law within a Global International Society: Comment on Felix Lange, Andrew Hurrell
Part II: Actor-centred perspectives
6. The BRICS as 'Rising Powers' and the Development of International Law, Aniruddha Rajput
7. International law and its others: Comment on Aniruddha Rajput, Simon Chesterman
8. Do Non-State Actors Strengthen or Weaken International Law? The Story of a Liberal Symbiosis, Jean d'Aspremont
9. Liberal or not? Comment on Jean d'Aspremont, Michael Zurn
10. From high hopes to scepticism? Human rights protection and rule of law in Europe in an ever more hostile environment, Angelika Nussberger
11. How Should the European Court of Human Rights Respond to Criticism: Comment on Angelika Nussberger, Geir Ulfstein
Part III: System-oriented perspectives
12. Is Compliance an Indicator for the State of International Law? -Exploring the 'Compliance Trilemma', Jeffrey L. Dunoff
13. Comment on Jeffrey Dunoff, Markus Jachtenfuchs
14. The Rule of International (Environmental) Law and Complex Problems, Jutta Brunnee
15. Complexity Rules (or: Ruling Complexity): Comment on Jutta Brunnee, Tomer Broude
16. International Law, Informal Lawmaking and Global Governance in Times of Anti-Globalism and Populism, Jan Wouters
17. International Law in Times of Anti-Globalism and Populism – Challenges Ahead: Comment on Jan Wouters, Andreas Zimmermann and Norman Weiss
Part IV: Justice and legitimacy
18. Search for legitimacy – a symptom for a normative crisis?, Thilo Marauhn
19. The Relationship between Legality and Legitimacy: A Double-Edged Sword, Dana Burchardt
20. The Contestation of Value-Based Norms: Confirmation or Erosion of International Law?, Tiyanjana Maluwa
21. Comment on Tiyanjana Maluwa, Andrea Liese and Nina Reiners
22. Ensuring Access to Information: International Law's Contribution to Global Justice, Eyal Benvenisti
Comment on Eyal Benvenisti, Maurice Kamto
AUTORES
Heike Krieger, Professor of Public Law and International Law, Freie Universitat Berlin,Georg Nolte, Professor of Law, Humboldt-Universitat zu Berlin, Andreas Zimmermann, Professor of International Law and Director of the Human Rights Centre, University of Potsdam

Heike Krieger is Professor of Public Law and International Law at Freie Universitat Berlin and Max Planck Fellow at the Max Planck Institute for Comparative Public Law and International Law in Heidelberg. She is Co-Editor of the Yearbook of International Humanitarian Law and has, inter alia, taught at the Universities of Gottingen, Nottingham, and the Centre for Transnational Legal Studies, London. She is member of the German Council of Science and Humanities which advises the German government on the development of science, research and higher education. Between 2007 and 2014 she acted as Judge at the Constitutional Court of the State of Berlin. Her areas of research are general international law, human rights law, and international humanitarian law.

Georg Nolte is Professor of Law at Humboldt University of Berlin since 2008. He is a member of the UN International Law Commission (since 2007) and an associate member of the Institut de Droit International (since 2015). He held chairs at the University of Gottingen (1999 – 2004) and the University of Munich (2004 – 2008). He was a visiting fellow at All Souls College, Oxford (2003 – 2004), Wissenschaftskolleg zu Berlin (2006 – 2007), and Princeton University (2013 – 2014).

Andreas Zimmermann, LL.M. (Harvard) is Professor of Public, Public International, and European Union Law at the University of Potsdam, and Director of the Potsdam Centre of Human Rights. Apart from Potsdam University, he has also taught inter alia at the University of Michigan (United States), the University of Johannesburg (RSA), Hebrew University (Israel) and most recently at Bir Zeit University (Palestine), as well as part of the United Nations International Law Fellowship Programme. He has been adviser of the German delegation during the United Nations Diplomatic Conference on the Establishment of an International Criminal Court, is a member of the Permanent Court of Arbitration and has acted as counsel in various cases before the ICJ and before the Iran-US Claims Tribunal. He was judge ad hoc at the European Court of Human Rights, and is a member of the advisory committee on international humanitarian law of the German Red Cross.
Contributors:
Jean d'Aspremont, Professor of Public International Law, University of Manchester; Professor of International Law, Science Po School of Law

Eyal Benvenisti, Whewell Professor of International Law, University of Cambridge; Director of the Lauterpracht Centre for International Law, University of Cambridge; Anny and Paul Yanowicz Professor of Human Rights, Tel Aviv University

Jochen von Bernstorff, Professor of Constitutional Law, Public International Law and Human Rights Law, Eberhard Karls University Tubingen

Tomer Broude, Associate Professor of Law, Hebrew University, Jerusalem

Jutta Brunnee, Professor of Law and Metcalf Chair in Environmental Law, University of Toronto

Dana Burchardt, PhD, Post-doctoral researcher and Academic Coordinator, Humboldt University Berlin

Simon Chesterman, Professor of Law and Dean of the Faculty of Law, National University of Singapore

Jeffrey L. Dunoff, Laura H. Carnell Professor of Law, Temple University Beasley School of Law, Philadelphia

Heike Krieger, Professor of Public and International Law, Freie Universitat Berlin

Andrew Hurrell, Montague Burton Professor of International Relations, University of Oxford and Fellow at Balliol College, Oxford

Markus Jachtenfuchs, Professor of European and Global Governance, Hertie School of Governance, Berlin; Director of the Jacques Delors Institute Berlin

Maurice Kamto, Professor of Law, University of Yaounde II

Felix Lange, PhD, Post-doctoral researcher, Humboldt University Berlin

Andrea Liese, Professor of International Organizations and Policies, University of Potsdam

Tiyanjana Maluwa, H. Laddie Montague Professor of Law and International Affairs, Pennsylvania State University

Thilo Marauhn, Professor of Public and International Law, Justus Liebig University Giessen

Georg Nolte, Professor of Public, International and European Law, Humboldt University Berlin

Angelika Nussberger, Judge at the European Court of Human Rights; Professor of Constitutional Law, International and Comparative Law, University of Cologne; Director of the Institute of Eastern European Law, University of Cologne

Anne Peters, Professor of Law at the Universities of Heidelberg, Free University Berlin, Basel, and William C. Cook Global Law Professor at the University of Michigan; Director at the Max Planck Institute for Comparative Public Law and Public International Law, Heidelberg

Aniruddha Rajput, Member of the United Nations International Law Commission

Nina Reiners, PhD, Post-doctoral researcher, University of Potsdam

Geir Ulfstein, Professor of Public and International Law, University of Oslo

Norman Weiss, Permanent Senior Fellow at the Potsdam Centre of Human Rights, University of Potsdam

Jan Wouters, Professor of International Law and International Organizations, Catholic University of Leuven; Adjunct Professor, Columbia University, New York

Andreas Zimmermann, Professor of Public, Public International and European Union Law, as well as European and Public International Business Law, University of Potsdam; Director of the Potsdam Centre of Human Rights

Michael Zurn, Professor of International Relations, Free University Berlin; Director of Global Governance, Berlin Social Science Center (WZB)