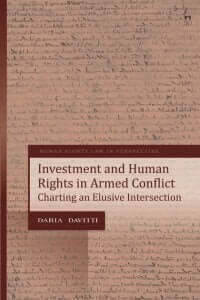 Charting an Elusive Intersection
By: Daria Davitti
ISBN: 9781509911660
Publicado: 30-05-2019
Páginas: 288
This book analyses the way in which international human rights law (IHRL) and international investment law (IIL) are deployed – or fail to be deployed – in conflict countries within the context of natural resources extraction. It specifically analyses the way in which IIL protections impact on the parallel protection of economic, social and cultural rights (ESC rights) in the host state, especially the right to water. Arguing that current responses have been unsatisfactory, it considers the emergence of the 'Protect, Respect and Remedy' framework and the Guiding Principles for Business and Human Rights (jointly the Framework) as a possible analytical instrument. In so doing, it proposes a different approach to the way in which the Framework is generally interpreted, and then investigates the possible applicability of this 'recalibrated' Framework to the study of the IHRL-IIL interplay in a host country in a protracted armed conflict: Afghanistan. Through the emblematic example of Afghanistan, the book presents a practical dimension to its legal analysis. It uniquely portrays the elusive intersection between these two bodies of international law within a host country where the armed conflict continues to rage and a full economic restructuring is taking place away from the public eye, not least through the deployment of IIL and the inaction – or merely partial consideration – of IHRL. The book will be of interest to academics, policy-makers, and practitioners of international organisations involved in IHRL, IIL and/or deployed in contexts of armed conflict.
CONTENIDO
Introduction
I. Focus of the Book
II. Structure of the Book
1. Extractive Sector Investment in Conflict Countries: The Situation in Afghanistan
I. Extractive Companies in Conflict Countries: An Issue of Human Rights Protection?
A. The Human Rights Impact of Extractive Companies in Conflict Countries
B. Conceptualising the Term 'Protection'
II. Practical Challenges in Operationalising Human Rights Protection When Extractive Companies Invest in Conflict Countries: The Situation in Afghanistan
A. Corporate Abuse and 'Soft-law' Mechanisms
B. Prioritising the Rights to be Protected
C. A Complex Political Context
III. Preliminary Conclusions
2. The Relevant Legal Framework: Investment Protection in Conflict Settings
I. Foreign Investment and the Need for Protection: International Investment Law and Armed Conflict
A. The Notion of Investment
II. Relevant Standards of Investment Protection
A. The Evolution of FET through the Doctrine of Legitimate Expectations
B. Full Protection and Security
C. War Clauses
D. Protections Against Expropriation
E. Most-favoured Nation Treatment
III. Preliminary Conclusions
3. The Relevant Legal Framework of Human Rights Protection: ESC Rights and the Right to Water
I. Reasons for a Focus on the Right to Water
II. Legal Foundations of the Right to Water
III. States' Obligations to Respect, Protect and Fulfil
IV. Article 2(1) ICESCR: Progressive Realisation and Obligations of Immediate Effect
A. Elimination of Discrimination
B. Obligation to Take Steps
C. Prohibition of Retrogressive Measures
D. Minimum Core Obligations
V. Availability, Accessibility, Acceptability and Quality
VI. Maximum Available Resources
VII. International Assistance and Cooperation as a Basis for Extraterritorial Obligations
VIII. On Limitations to ESC Rights
IX. Preliminary Conclusions
4. Human Rights and Investment: Analysing the Relationship
I. The Contours of a Troubled Relationship
A. Of Conflicting Laws: How States' Obligations in International Investment Agreements Affect States'
Human Rights Obligations
B. Of the Inherent Limitations of International Investment Law
II. Is a Balance Between 'Investors' Rights' and Human Rights Possible?
III. Preliminary Conclusions
5. Business and Human Rights: A Tool for Investment and Human Rights Protection in Armed Conflict?
I. A Critical Appraisal of the Business and Human Rights Framework
A. Third Pillar: Effective Remedial Action
B. Second Pillar: The Corporate Responsibility to Respect Human Rights
C. First Pillar: The State's Duty to Protect Human Rights
II. The Framework at the Intersection of International Human Rights Law and Investment Law in Armed Conflict
III. Preliminary Conclusions
Conclusion: Implications for Afghanistan
AUTOR
Daria Davitti is a Research Fellow at Lund University in Sweden and an Assistant Professor at the University of Nottingham, UK.